This tutorial shows how to convert your spotify playlists to deezer. We will use the free web application playlist converter.
Playlist converter is a web application or a website to convert playlist from multiple music services to other music services. This is very handy when you have large playlists and do not want to recreate them track by track. It can save hours of work.
2) Click on the spotify tab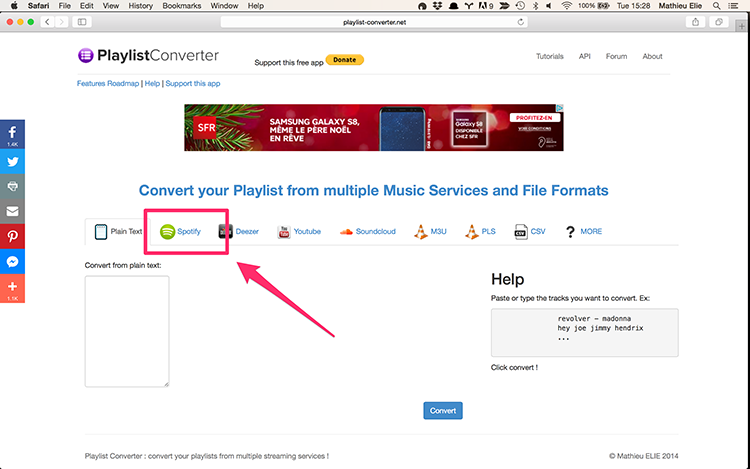 Tabs are the source playlist service. This is the service where you will select the original playlist.
In this case this is spotify because we want to convert from spotify.
3) Click on login with spotify button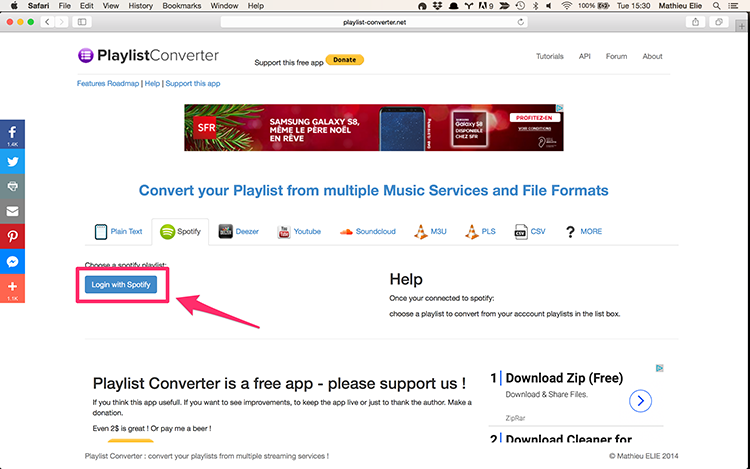 A popup will appear to connect you to spotify.
At this step you will authorize our app to access your spotify. It is necessary if we want our application to retreive your spotify playlist.
No information is stored on our server. Everything remains in your browser.
4) Choose a spotify playlist to convert from the listbox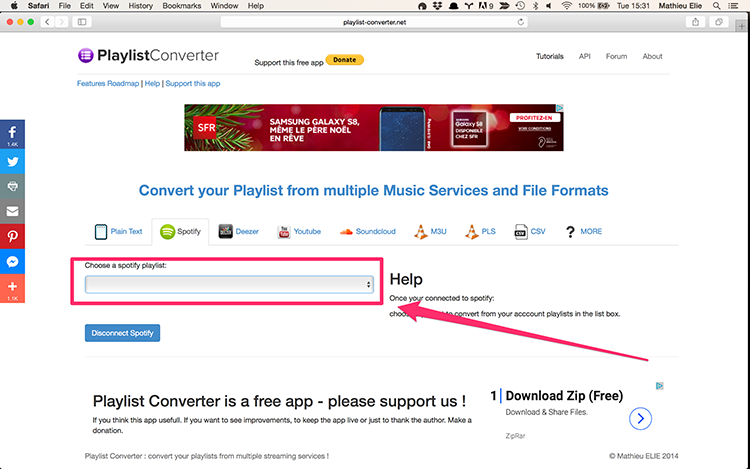 At the end of the loading animation a listbox appears. It contains all your spotify personnal playlists.
From this list, choose the playlist you want to convert from.
5) Wait for the spotify playlist to load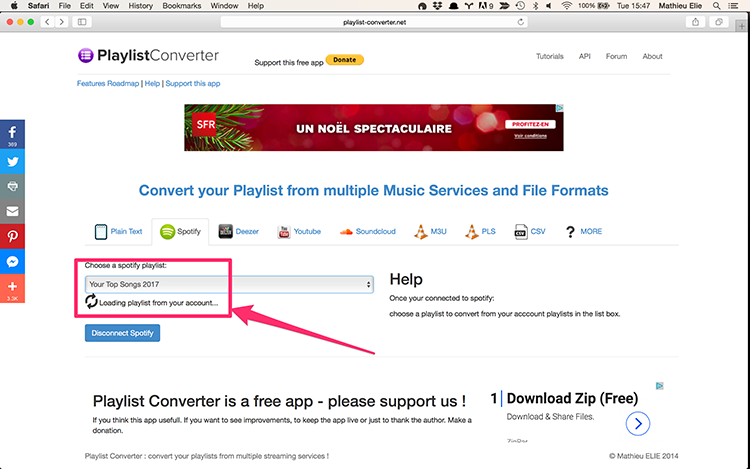 When you select the source playlist, the app will load it from spotify. Wait for the loading animation to end.
6) Clic on convert to deezer button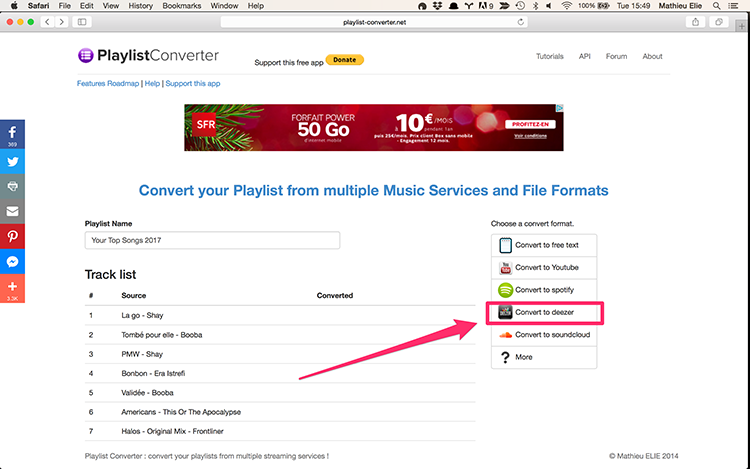 Now the source playlist is fully loaded. On the right you have the destination service, the service we want to convert to.
Choose the deeer service clicking the button.
7) Wait for the the tracks to convert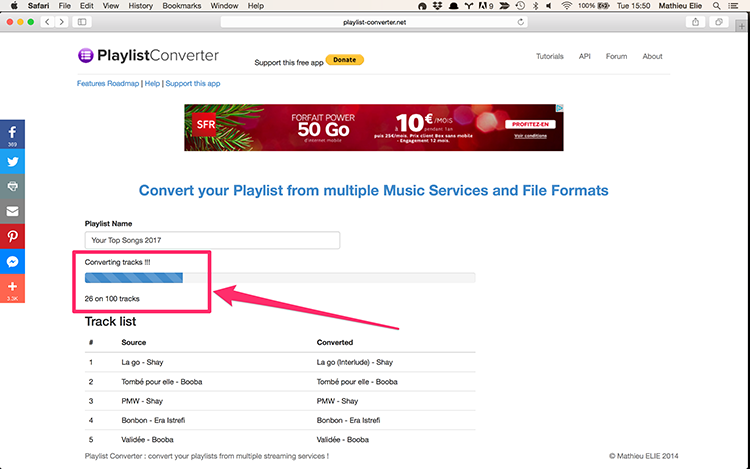 At this stage playlist converter will convert all tracks one by one.
The applciation make api calls (distant calls to the destination service) to find related tracks.
You can wait for this process to complete.
8) Clic on button "Connect to your deezer account for exporting"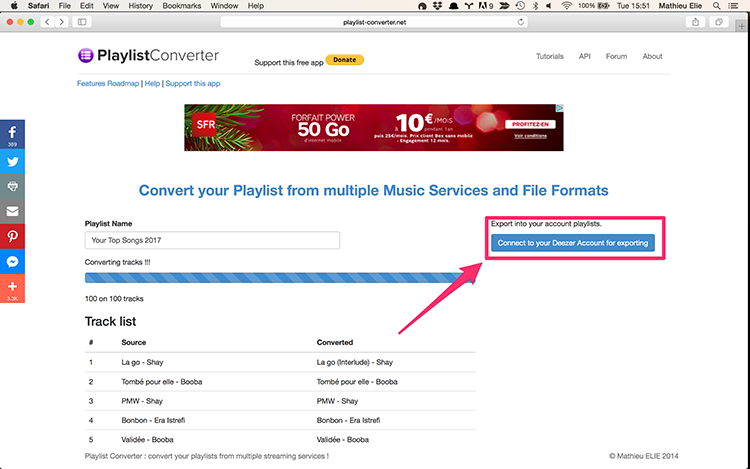 Now every tracks are converted. We should connect again to deezer to export the playlist.
Clic on the button for this final step.
9) Wait for the new deezer playlist to be created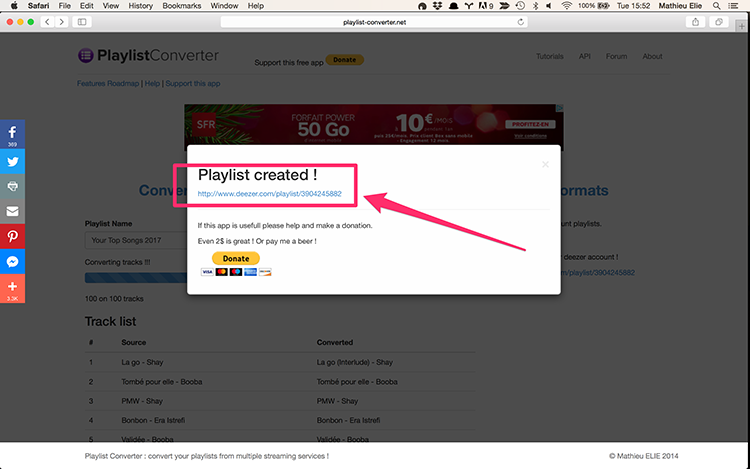 Wait a little bit and your playlist will be ready. Just follow the link provided to see your playlist. At this stage the playlist is present in your deezer account.
More How-tos / help
You can read and ask for help and how to on the Forum